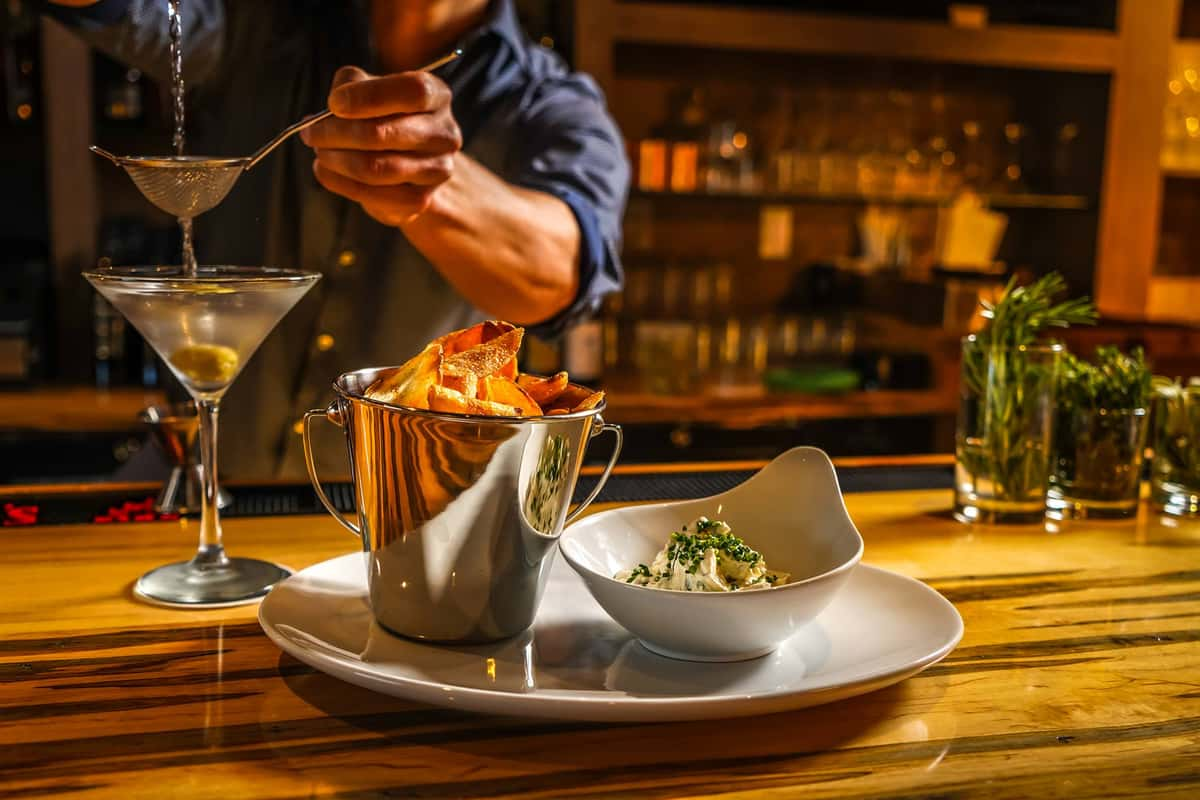 WINE LIST
Become a VIP
Receive updates on special events, new menu items, menu reviews, and more!
WINE LIST
Champagne & Sparkling
Lombard Extra Brut Grand Cru (1/2 Bottle) Champagne, France
$2450% Chardonnay, 25% Pinot Noir, 25% Pinot Meunier. The nose is bright and youthfully complex, offering scents of yellow stone fruits (apricots, peaches, yellow plums), fresh-baked bread and a touch of smokiness. On the palate the wine is deep, full-bodied, crisp and focused, with zesty notes. Frothy mousse and very good length. Excellent as a starter, appetizer, or paired with oysters and seafood
Moët & Chandon Imperial Brut Champagne
$89The color is an elegant golden straw yellow with amber highlights. Its aromas are radiant, revealing bright yellow-fleshed fruits (apple, pear, yellow peach), honey, floral nuances (lime blossom) and elegant blond notes (brioche and fresh nuts). The palate is seductive, richly flavorful and smooth combining generosity and subtlety, fullness and vigor, followed by a delicately fresh crispiness (fruit with seeds), to reveal the magical balance of Champagne.
Taittinger Prestige Champagne
$99A blend of around fifty different vineyards, consisting of Chardonnays (40%) and Pinots (60%) from various vintages matured to perfection. The brilliant body is golden yellow in color. The bubbles are fine, while the foam is discreet yet lingering. Very open and expressive, delivers aromas of fruit and toast. It also gives off the fragrance of fruits. The entry onto the palate is lively, fresh and in total harmony. Feels first that it filled the mouth due to bubbles. Aftertaste is dry with minerals
Rosé Champagne & Sparkling
Chloe Prosecco Rose
$20made from 90% glera grapes from roughly 60 acres of vineyards divided among a handful of small growers primarily in the Asolo area of the Prosecco D.O.C. The other 10% were pinot noir grapes, the only red grape allowed in Prosecco D.O.C. A dry, bright brut, Chloe Prosecco Rosé displays fine bubbles and notes of ripe red berries and rose petals
White - Italy
Belisario Verdicchio Di Matelica "Vigneti del Cerro" 2019
$30Medium-bodied, dry. Citrus and flowers on the nose with a palate of bright acids and some bee pollen. Crisp & clean and refreshing with mineral and lemon on the finish. Drink this with any white fish, shellfish, cream-based pasta, and pasta with mussels or clams.
Fattoria Coroncino Il Bacco Verdiccio 2018, Marche
$34a full-frame, full-body wine with an enormous capacity for adapting and matching with food. Il Bacco has very low sulphites level The Il Bacco is full of minerality and a broad tropical palate with the beguiling green tinges and upturn of almond on the finish that truly characterize great Verdicchio
Elena Walch Pinot "Castel Ringberg" 2017
$52A clear straw yellow characterizes the Pinot Grigio Vigna "Castel Ringberg". A complex variety of fruits, especially ripe pears and lime blossom, as well as spicy sage notes inform the bouquet. Structure and elegance, power and harmony dominate the palate, combined with creamy fullness and density. A single vineyard Pinot Grigio with a lot of character!
White - USA
Ridge Grenache Blanc 2018, Pasa Robles, California
$4575% Grenache Blanc, 15% Picpoul, 10% Roussanne. Pale gold color. Aromas of citrus and green plum, white flowers, complex minerals and exotic oak spices. Lemon, pear and tart pineapple fruits on entry, refreshing acidity and a medium body. Long, citrus zest aftertaste
Banshee Chardonnay 2018, Sonoma Coast, California
$36This wonderfully complex Sonoma Coast Chardonnay has aromatics of lemon curd, baking spices, wet river rock and a hint of cedar. In the mouth, the wine is moderate weight but packs extraordinary depth of flavor ripe with Asian pear, Golden Delicious apple and a hint of minerality. This round yet delicate wine finishes with balanced acidity and a dry, clean finish.
WHITE - The World
Santa Carolina Reserva Chardonnay 2018, Leyda Valley, Chile
$25100% Chardonnay. Intense gold yellow. Mango and papaya-scented nose with hints of pear and roasted hazelnut. Nice weight and creamy texture on the palate, balanced
citrus notes of lime, tangerine and tropical fruit on a background of vanilla and caramel. Aged six months in French oak barrels
Fleur du Cap Chenin Blanc 2019, Stellenbosch, South Africa
$29The wine is brilliantly clear. The nose is fresh with intense aromas of citrus, apples and a stone fruit with a touch of oak spice, carried through to the palate. The time spend on the lees adds to the creaminess and roundness of the wine. It has a lingering crispy finish. This wine works wonders with all seafood such as shellfish, and mussels. It is also a good choice with Asian and chicken dishes
Pazo Pondal Lenda Albariño 2018, Rías Baixas, Spain
$30100% Albariño. Intense and complex nose where floral and menthol notes very characteristic of our vineyards appear, are also combined with an elegant mineral note, as well as citrus and white fruit touches. The palate is medium-bodied sweet, while fresh, fruity notes and very nice balsamic notes, which give a long and pleasant finish. It combines well with fish, seafood and sushi, as well as pasta and white meats
Red - The World
Noster Inicial Priorat 2014, Spain
$4070% Grenache, 25% Carignan, 5% Cabernet Sauvignon. Intense cherry red color. Complex aromas of red fruits with layers of plums and figs, beautifully integrated
with chocolate and vanilla. Full bodied, complex, with
persistent mature tannins. Estriacus winery is located in the town of Gratallops, Priorat, just 40 km from the Mediterranean. Priorat is a DOQ (Denominacio d'Origen Qualificada) which is the highest quality classification in Catalonia (Eastern Spain), and one of only two wine regions in Spain to qualify as DOCa, the highest qualification in Spain.
Lievland Vineyards Bushvine Pinotage 2018, South Africa
$35Made in an elegant modern style, this Pinotage shows vibrant notes of cherry and raspberry, with a hint of cedar and vanilla from the oak aging. The palate has rich red fruit and the savoriness typical of the variety. 8% Grenache adds vibrancy and complexity. 4% dry-farmed Syrah gives an elegant and fine tannin. A small (3 % ) bit of old-vine Cinsault has been blended in to enhance the aromas and add freshness to the palate.
Edgebaston The Pepper Pot, 2017 Stellenbosch, South Africa
$30Made from grown grapes in the Stellenbosch and Paarl regions, this wine is created to show the fresh, fruity and spice driven flavors of these Rhone varietals. The color is youthful and purple/red. The nose is one of crushed black pepper, dark mulberry and mixed berry coulis
49% Syrah, 17% Mourvedre, 16% Carignan, 7% Tannat, 7% Grenache, 4% Cinsaut