Drink Menu
Become a VIP
Receive updates on special events, new menu items, menu reviews, and more!
Drink Menu
Featured Wines
Nuraghe Crabioni Cannonau di Sardegna DOC 2017
a red wine made from Sardinian native cannonau grapes. Ruby red color. Intense with sweet notes of ripe red fruit reminiscent of Maraschino cherries under spirits; lightly spiced. Powerful and warm wine that is soft and intense in the mouth with persistent aromas; balanced with developed structure and nuanced layers that can be attributed to its rich terroirGlass $10Bottle $30
Les Vigneronsac de Pinet Picpoul de Pinet 2019
Crystal clear lemon color with green tinges. Soft, delicate nose with hints of grapefruit, unripe peach, accacia and briney notes. Balanced with good structure and acidity in the mouth, and a saline lingering finish. Perfect pairing for any shellfish and with our Boneless Half ChickenGlass $9Bottle $28
Altano Duoro DOC 2017
This Altano DOC Douro red wine is made from a combination of several traditional Douro
grape varieties sourced from the Symington family's Douro Valley vineyards, principally those
located in the Cima Corgo and Douro Superior sub regions. Deep, crimson color. This Altano red reveals scented floral aromas and focused, fresh fruit. Simultaneously full and silky on the palate, well defined red fruit flavors come to the fore, enveloped in soft, ripe tannins and spicy notes. Generous, well structured, and elegant.Glass $9Bottle $29
Rosé By The Glass
Van Duzer Pinot Rosé, Willamette Valley, OR
Plush aromatics of fresh raspberries, early
season strawberries, gooseberry and pomegranate intertwines with
fragrances of rhubarb, kiwi and cantaloupe. Subtle, oral notes of rose
petal finish the bouquet to mark its intricacy. The rich midpalate transitions to textured acidity receding towards a finish showcasing an enlightened sense of minerality that playfully
contrasts sweet, small, red-berry driven flavorsGlass $11Bottle $33
Marques D Caceres Rioja Rosé 2019, Spain
96% Tempranillo, 4%Garnacha tinta. Expressive pale coral color. A delicate floral background of violets and carnations, noted of red fruit and a soft hint of anissed. Sweet on the palate, lively
and refreshing revealing fine structure with a pleasant acidity. A Rosé of great personalityGlass $9Bottle $27
Sparkling Wines By The Glass
Moët Rosè Imperial
$15Rosé Imperial displays a pink color with amber highlights. Lively and intense, the bouquet exudes red fruits (wild strawberry, raspberry, cherry) with floral nuances of rose and a slight hint of pepper. On the palate, the wine shows a juicy intensity of berries (strawberry, raspberry, red currant) rounded out by the fleshiness and firmness of peach and the freshness of a subtle note of mint.
White Wines By The Glass
Chardonnay, Bernier Val de Loire, France
100% Chardonnay. This chardonnay tastes crisp and bright. It comes from the western Loire
Valley, an unexpected place for this Burgundy grape variety, and is made in a
fresh, unoaked style, nothing like the famed (and costly) Burgundy crus.
Though unconventional, it's delicious, with fruit flavors that echo pears and
apples, and an enticing hint of minerality beneath the surface.Glass $10Bottle $30
Sauvignon Blanc, Mount Fishtail 2019, Marlborough, New Zealand
Aromas of passionfruit, elder ower, gooseberry, and fresh mint laced with a deli- cate white ower element lead to punchy palate with guava and lime. A classical edgy style delivers beautiful line and length: a true Marlborough Sauvignon BlancGlass $9Bottle $28
Red Wines By The Glass
Pinot Noir, Bezinger 2018, Monterey County, CA
Bright strawberry and cranberry aromas are duplicated on the palate, with a touch of spice and earthy notes on the finish. Silky tannins and balanced acids combine seamlessly to produce a luxurious mouthfeel. Aged 10 months on French & Hungarian Oak.Glass $10Bottle $30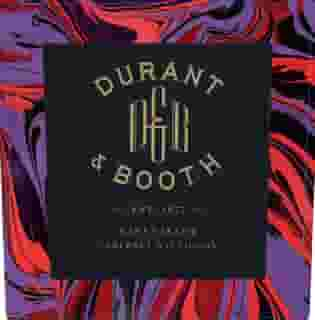 Cabernet Sauvignon, Durant & Booth 2017, Napa Valley, CA
Harvested in the cool
morning hours from vineyards across Napa Valley including
the Calistoga, St. Helena and Rutherford appellations, the
grapes were hand sorted and underwent extended maceration
before aging for 20 months in 30% new French oak.
This is a structured and elegant Cabernet Sauvignon with great
depth and terroir. Red fruit aromas of strawberry and cherry
spring from the glass and continue through to the palate.
Raspberry and blueberry flavors mingle with dark chocolate
notes and are layered with a touch of spice. The wine is
textured and has an incredible, long-lasting finish.Glass $18Bottle $60