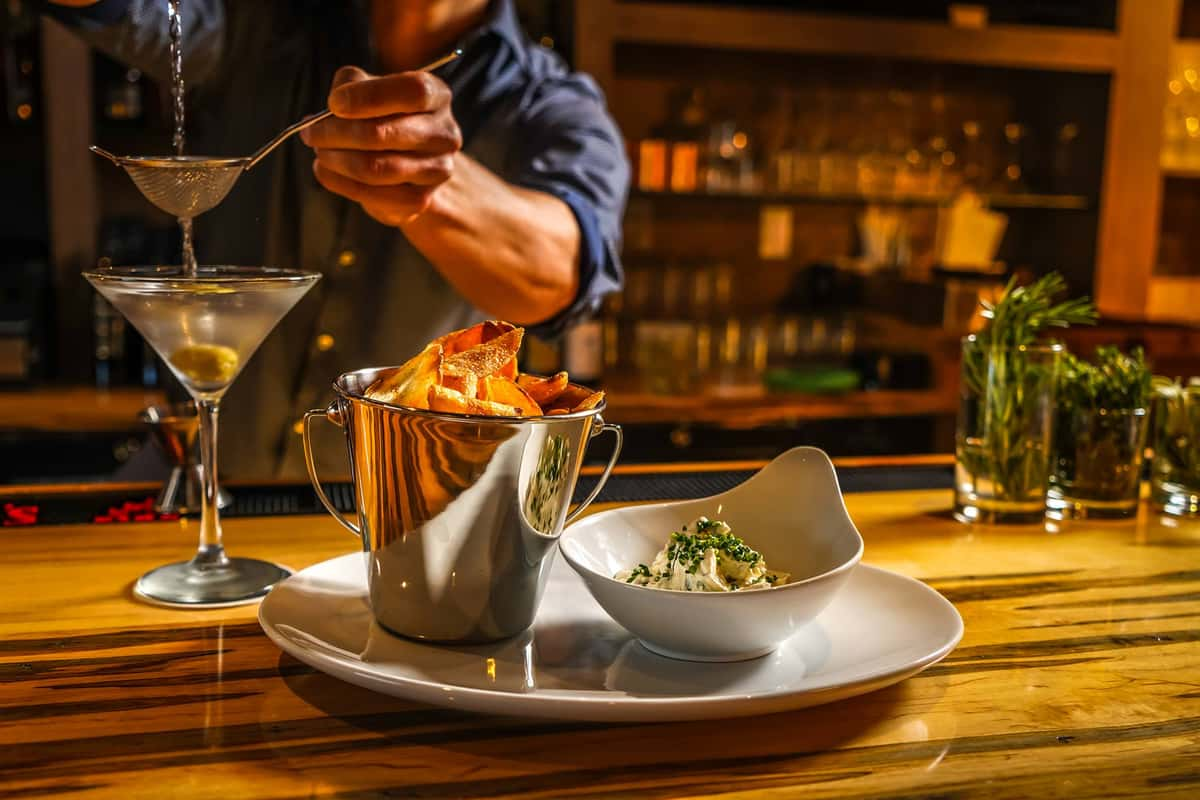 Cordials & Amaro
Become a VIP
Be the first to receive updates on exclusive events, secret menus, special offers/discounts, loyalty rewards & more!
Cordials & Amaro
Dessert Wine
Villa Rosa, Moscato D'asti 2018
$8Piedmont, Italy. Moscato grapes are sourced from southern-facing hillside vineyards that surround the town of Santo Stefano Belbo in Piedmont. Villa Rosa Moscato is frizzante, or lightly sparkling, with an aromatic bouquet of sweet peach and apricot and delicate mineral qualities. A pleasantly sweet, yet refreshing way to end a meal
Ports
Warres Late Bottled Vintage Port 2008
$11Deep-colored, dark red center with just a
hint of age showing through on the dark
red rim. The backbone provided by the large
Touriga Nacional component is evident in
the fragrant, floral nose of roses and violets.
The palate is generous and sumptuous
with black fruit and licorice flavors,
balanced by schist tannins and the fresh
acidity typical of Warre's bottle-matured
wines, giving them hallmark balance and
elegance, as well as structure.
Cockburn 20y Year Tawny
$10It has extraordinary complexity with layers of dried fruits, nuts and caramel. It has gained more wisdom and more depth than its younger sibling but age affects the fruit too. Here, the characteristics of wood ageing are really at their peak and the fruit has softened, gaining a smoothness like silk.

It is slightly lighter than many other 20 Year Old Tawny Ports and it also has the Cockburn's dry finish.

SERVED CHILLED
Sherry
Osborne Fino Sherry, Jerez, Spain
$7Amazingly brilliant showing a pale yellow color. Clean and sharp, displays fresh green apple aromas mingled with enticing almond notes. Very nice salty nuances that evokes the sea. Sheer class with a dry palate. This is a "fino" wine - a sherry which is very pale, dry, light, extraordinarily fragrant and delicate on the palate. It can be drunk at any time of day, and is specially suitable as an aperitif and excellent with shellfish & seafood
Osborne Pedro Ximénez Very Sweet Jerez-Xérès-Sherry, Jerez, Spain
$7A deep mahogany color, it is very dense, forming legs. The nose is aromatic and perfumed and the palate is very sweet, aromatic, deep and flavorful Ideal for enjoying after meals, on its own or served alongside all types of sweets, it also goes well with ice-cream or blue cheese
Brandy & Cognac
Darvelle Frères VSOP Brandy
$12This French Brandy is amber-yellow color with golden highlights. Fragrant, rather nice nose with notes of dried fruits (prunes, figs), oak, vanilla and honey. Light alcohol notes with a fairly mild palate.

Big, sweet and boozy, this VSOP offers rich caramel aromas and flavors alongside lots of spice and a mouthwatering saline tang on the finish.
Kelt Tour Du Monde VSOP Cognac
$14A traditional Grande Champagne VSOP which is allowed to age much longer than the legal minimum of 4,5 years in its Limousin oak barrels forms the base for this renowned cognac. It is blended with much older cognacs to receive the quality level required of a KELT cognac.

Once the blending is completed we embark on the Tour du Monde. This is the legendary 3 month Ocean Maturation exclusive to KELT which brings out hidden qualities in the Limousin oak and rounds off the cognac in a beautiful and unique way making the KELT cognac the smoothest on the market while presenting a remarkably broad pallet of tastes and aromas.
Dark golden yellow, amber. Grande Champagne style, very rare. Mellow, warm, well balanced,
great structure. Long finish – at least
10 minutes on the palate
Aged Rum
RL Seale's 12 Year
$12Distilled, aged and blended at the Foursquare Rum Distillery in Saint Philip Parish, Barbados. The distillery was resurrected in 1996 by Richard Seale and his father Sir David Seale, but the history of the R.L. Seale Company goes generations. Founded in 1926 by Reginald Leon Seale, they've been committed to producing, blending and bottling the finest Bajan rum for nearly a century. Now Reginald's great grandson, Richard Seale is at the helm as Master Distiller and Blender of the iconic distillery. The Foursquare Distillery has one countless awards and been named "Rum Distiller of the Year" for five consecutive years. Now the family's namesake 12 year old flagship product is finally available in the US. It was distilled from pot and column stills at the Foursquare Distillery and aged for a minimum of twelve years in the tropical climate before bottling at 92 proof without sugar or flavor additives whatsoever.
Kirk & Sweeney 18 Year Old, Dominican Republic
$11This full-bodied rum delivers an intriguing range of aromas, from intense vanillas to faint
notes of sherry and raisins–all built upon a notable undercurrent of roasted cane sugars.
Expert blending comes to life with the first taste, revealing a deep vanilla flavor,
followed by dried fruits, nutmeg, cinnamon spices and a hint of oak.
Immensely smooth all the way through, this rum unwinds with a gently wavering sensation of oak, sherry and raisin
Foursquare
$132007, Barbados. Rich, complex notes of vanilla, tart fruits, subtle toasted coconut, honey, mocha, hints of citrus peel, tobacco, and burnt sugar. On the palate, notes of sweet candy, vanilla, grapes, almond jelly, pepper, pimento, caramel, some sort of burnt citrus zest, and subtle tobacco lead to a smooth complex finish.